If you read my Project Life posts, you know that I currently get a few different subscription monthly boxes, and have gotten several others in the past.  Since the time of year for gift giving (and wish list making) is here, I thought I'd share with you my top five favorite subscription boxes! All five of them are different types of boxes, and there are even more boxes out there that I haven't yet tried so if you are looking to get one as a gift, or to try one out yourself, there really is something for everyone. Also, I realized after starting to make this list, that food based boxes could easily have a top 5 of their own, so there will be a post coming with those as well!
A quick note before I get into all of the boxes: these are all affiliate links.  I love these boxes, and I pay for the subscriptions all myself, and I wouldn't share them with you if I didn't love them and think you might love them too.  If you subscribe through my links, I will get a small perk (and for some of them, you do too!), but if you'd prefer not to use my link, that's cool too.
Anyways, here they are.  In no particular order.
Stitchfix – a personal styling service, basically a clothing box.  You tell them your sizes, style, and budget preferences, and they send you a box of clothing and accessories.  Your "styling fee" is $20 – that gets you the box sent to you.  Once you get the box, you try on the items, and decide what you want to keep.  If you decide to keep some of the items, you "styling fee" gets put towards the cost of what you buy.  Anything that you decide not to keep, you just put in the prepaid bag that they supply, and drop it in a mailbox to send it back.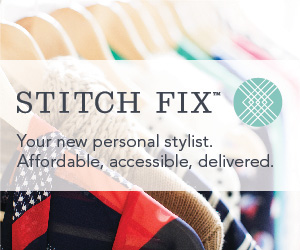 Things I love about Stitchfix:
You don't have to get a shipment every month.  You can schedule whenever you want your shipment to come (they come pretty close to the exact day you request) and you can do it as often or as little as you want.  I have been getting a box about every other month or so, but you could just one box a year even if you wanted! I love the flexibility.
After every "fix" you get, you leave feedback for the stylist.  I really believe that they read and analyze the feedback because there seem to be more items that I like in each box.
The style of clothes is not always something I would necessarily pick out for myself.  A couple of times I've tried on things that there would be no way I would look at in a store, and they ended up being my favorites once I tried them on!  The stylists look at your social media accounts (if you give them access to them) and check out your likes and dislikes, which helps them decipher your style preferences, along with the feedback you leave when you get a fix.
Things I don't love about Stitchfix:
The pieces are not exactly cheap.  They do seem to be good quality, and you can request a price range of items, but generally they are going to be more than I would spend going to Target and picking up some things.  (This is one of the reasons that I don't get a box every month.)  I usually try to pick just one favorite piece from each box to keep, but the past couple of times I've loved more that and that is where the prices get a bit hard to swallow. Although, you do get a discount if you buy EVERYTHING in your box.
I feel like in order to not waste that $20 styling fee, I need to buy something from every box.  There hasn't been a box yet that there wasn't something I'm interested in buying, but I do get a little worried that I'll at some point have to buy something I don't love, just so that I don't feel like I'm wasting $20.  My boxes only keep getting better at this point, so hopefully I'll never have to face that situation, but it is a bit of a concern.
PopSugar Must Have – This box is filled with items hand-picked by the PopSugar editors, the best in fashion, fitness, home, beauty, and food.  A one month box subscriptions is $35 (though the price is going up to $39.95 in November) including free shipping.  These are full sized products too, not sample sizes. (The photo below is from my June box, while it was good, I swear they get better every month.) (Use the code REFER5 and get $5 off your first box!)
What I love about PopSugar Must Have:
The variety and quality of items.  I love that I get a little bit of everything in this box.  Every moth I love 95% or more of the things in the box, which doesn't really happen with any other box subscription that I get, and I really think it has to do with that variety.
You get a lot of bang for your buck.  It is the highest priced box that I get, but the amount of product that I get for that $35, is much, much, more than that.  As an example, one of my favorite items from the October box is this Gorjana Bali Bead Bracelet which normally costs $45 on its own. And that is one of  nine items that came in that box.
What I don't love about PopSugar Must Have:
It is the most expensive box that I get.  As I already talked about, it is totally worth it, but sometimes I do get a little nervous about spending that much money on something that I don't know if I will like or not.
Julep Maven – For $19.99 you get a box of 2-3 full sized nail polishes and sometimes other beauty products depending on what package you choose. It is set up a bit differently than most boxes. Towards the end of the month, the different packages are released and you choose which one you want to get.  You also have the option to skip that month. (It doesn't charge you until your box ships, so you aren't charged if you skip a month)  With your Maven status, you also get discounted polish from the site all month long, no matter if it is in the box or not. (The photo below is from a box of mine from a few months ago…February I believe.  I don't completely remember, but I believe at least one of the items in the photo was an add-on to my box, 3 polishes is what most boxes come with)
Things I love about Julep Maven:
You get to see what you are getting ahead of time.  Now, I do like the mystery in most of the boxes that I get, but for this particular box, I really like that I can see what I am getting ahead of time.  That way, if I don't like my options (or if I already have similar colors) I can just skip the month and not end up with a bunch of duplicates.
You always have the option to skip a month.  I already mentioned it in the last point, but I really like the option to skip a month.  All monthly box subscriptions should have this option.
Things I don't love about Julep Maven:
The nail polish is usually really good quality, but occasionally there are polishes that are just not a good formula and are either super thick, or super thin, which results in me not using them as much or at all.
There are only so many nail polish colors that I need!  I pretty much don't buy polish outside of this box anymore, and even then I only actually take the box every few months right now.  I feel like I have a ton of polish right now.  If the option to skip a month at no cost wasn't an option, I definitely would not still be subscribed.
ipsy – An assortment of deluxe sample, and full sized beauty products that come in a custom makeup bag.  It costs $10 per month.
Things I love about ipsy:
The custom makeup bags are super cute, and definitely reusable.  I love that instead of just having all of the products in a box that will get recycled, they come in a bag that can be re-used.
The bags are always packed full of product.  Maybe it is just a deceiving illusion because the bags aren't exactly large, but it really makes me feel like I'm getting my money's worth when the bag is packed full.
They also have an "ipsy match" program where you rate what was in your bag, and some of the products that they send are determined by your ratings.  I can't say that I've seen a huge difference in my products since I started to rate things, but I have only been getting the it for about 3 months, and even more recently realzed that I should be rating things, so it may just take a little longer.  I do know though, that other people who get the bag have gotten different products than I have, so that points in the direction that they do actually take your opinions in to some consideration.
Since the products are generally smaller and sample sized, they often come in handy when I travel.  Things like hair spray, and makeup remover are not things I use often while at home, but I do when I travel, so these are handy to have so I don't have to go our and buy them just for one trip.
Things I don't love about ipsy:
I don't always use all of the products.  Since I am not a huge make-up person, there are sometimes things that I probably won't use.  Luckily, the things I will use generally are more than those I won't use.
Barkbox – You choose the size of your dog, and they send you carefully selected products for your dog.  Toys, treats, hygiene products, and more.  Each box is $29, including free shipping.
Things I love about BarkBox:
You definitely get bang for your buck.  Each box includes 4-6 (usually full sized) items.  It is usually a good mix of treats, toys, and other random things
The items in the box (especially the food items) are great quality.  They are brands that I would find in my local pet store, not somewhere like PetSmart or PetCo.  Quality ingredients, and things that Olive likes to eat.  Honestly, I was not expecting the items to be such good quality.
They donate 10% of their proceeds to various shelters, rescues, and animal welfare organizations.
Things I don't love about BarkBox:
The smallest size box is for dogs 0-20lbs, which is what I've gotten for Olive.  (Technically she is 24lbs, but she is definitely a small dog)  There have been a few things (toys, and treats) that are a little large for her.  I realize it would be a lot more difficult to put together the boxes if they were more specific in sizing, or breeds, but it is something that sways me from getting the box every singe month.
I mentioned before that you get lots of different producs in each box.  So many food/treat products though, that if we got a box every month, we would be overflowing with treats.  Olive just can't (and shouldn't) eat that many treats in a month.
Special shout out to a box that just launched and (I have not yet tried) but I'm pretty positive is going to be awesome. Be Nice Box.  In September at the Healthy Living Summit, I met Diana who blogs at Diana Pantz, and more recently A Year of Minnesota Nice.  Diana is one of the most caring, kind, and big thinking people that I've ever met.  After the Summit, several other awesome people started their own "year of nice" blogs for their own state, and Diana decided to launch the Be Nice Box. The idea of this box is to give you resources and ideas to spread kindness in your area.  Each box is $12, and $1 from each box is donated to charity.  Each month the box has a theme, and the charity will will be different each month to match the theme.  The November box is already sold out, but there is a waiting list for December.  I missed out on November, but hopefully I can get one in December!
Are you a monthly box subscriber?
What is your favorite subscription?
Filed under: Words Tagged: | Barkbox, Ipsy, Julep Maven, PopSugar Must Have, Stitch Fix, Subscription Boxes